Email Scandal: Was The Fix In For FBI's Investigation Of Hillary? aka #killhillary
Clinton Corruption:

It's now evident that the FBI fumbled its investigation into Hillary's Clinton's misuse of a private email server while serving as secretary of state. It found evidence of crimes but refused to prosecute. Whether it was dereliction, incompetence or something far more sinister are the only real questions that remain to be answered.

Comments by FBI Director James Comey to Congress

Thursday

underscore just how badly our justice system performed in the Clinton investigation. Not only did the FBI fail to put Clinton under oath during her 3-1/2 hours of questioning last week,

he said

, but the FBI has no recording or transcript of it.

Apparently, apart from personal recollections of those who questioned her, there is no record of what she said -- or whether, in the end, it was truthful.

This extraordinary bungling by the Justice Department and FBI can be no accident.

It's now clear the meeting between President Bill Clinton and Attorney General Loretta Lynch last week was a premeditated attempt at cooking justice -- making sure that neither the Justice Department nor the FBI, which is part of the Justice Department, would recommend charges against what were plainly illegal acts by Hillary Clinton.
http://www.investors.com/politics/editorials/email-scandal-was-the-fix-in-for-fbis-investigation-of-hillary/
WOW: Comey Told Congress Hillary Isn't 'Smart Enough' to Understand Classified Markings
Remember, Martha Stewart was put into prison for lying to Comey...he prosecuted her... she was NOT put in prison for insider trading, they couldn't make that case...
My personal opinion: Look at the 'Clinton's'... and what a BS deal the FBI pulled... did NOT even look at the transcripts of Hilary lying under oath to Congress...because 'he did not get a Congressional referral'...
He also emphatically stated that the investigation was conducted fairly and unbiased.
"This investigation was done honestly, competently and independently. No outside influence of any kind was brought to bear," Comey said. "Opinions are irrelevant. ... We did our investigation the right way. Only facts matter, and the FBI found them here in an entirely apolitical and professional way."
Comey said he could 'find no intent' by Hilary to commit a crime in this... 'intent' my gosh...what about her blatant lies 'under oath' to Congress on this... the mysterious meeting with Bill Clinton and Loretta Lynch, and then the timing of Comey's announcement to not charge Hilary... and Comey also said, she was unsophisticated in her actions in this...
Can you believe it... she spent 8 years in the White House as First Lady, 8 years as a US Senator, and 4 years as Secretary of State... and 'she is unsophisticated' as to these actions in handling classified material...using a private server, using unprotected communication devices, even while overseas...
Yet, the FBI did NOT record their interview with Hilary, NOR DID THEY PUT HER UNDER OATH!! And Comey wasn't even there when they interviewed her... AGAIN, CAN YOU BELIEVE THAT... the top FBI guy wasn't even present during this critical phase... IT'S RIGGED FOLKS!
Comey totally destroyed any reasonable creditability of the FBI and the DOJ along with the AG, Loretta Lynch who is following right along in the totally corrupt heritage of who she replaced...Eric Holder... and for all of us here in America, we now know that 'we the people' will NOT get fair and equal treatment under the law... and politically, Comey ranks right up there with Chief Justice Roberts who was the deciding vote of the Supreme Court on ObamaCare...
Once again, it proves that justice in America is tremendously biased in favor or the rich and powerful! And that 'the system is rigged!'...
The writer of this is a very dear friend of mine I won't use his name. Thanks, BW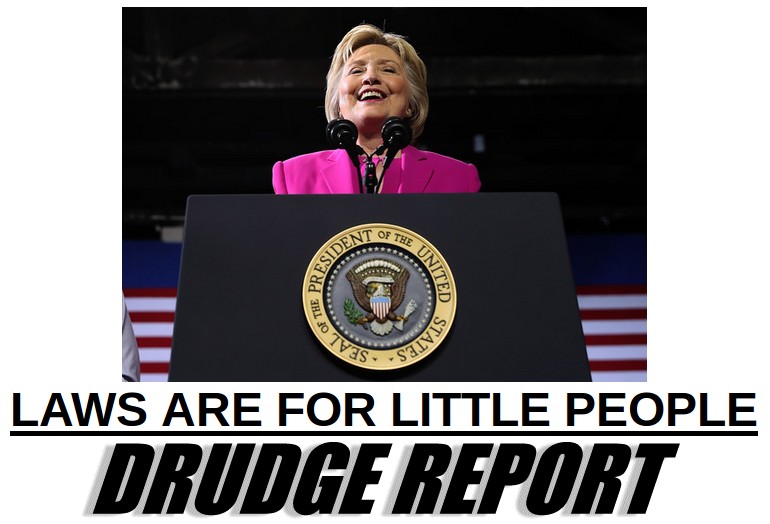 Do not Talk to Police
An law school professor and former criminal defense

attorney tells you why you should never agree to be

interviewed by the police or the FBI.
////////