The Resurrection Is Now
"What is the resurrection? It is the acceptance of the Holy Spirit's interpretation of the world's purpose; the acceptance of the Atonement for oneself."
M-28
Each moment is a decision for the crucifixion or the resurrection; for the ego's thought system or the truth. There is nothing too small to pay attention to in the mind. We must be attentive to the slightest nuance of a suffering self, for what we think is what we experience, and it is literally a choice for life or for death. We will experience pain, anxiety, and depression, or joy, happiness, and peace accordingly.
Jesus says in
A Course in Miracles
that we have to come to a complete disillusionment with this world—with its thought system—before we can begin to consistently experience reality; peace of mind. We must come to see that the suffering identity, the self-concept, has never given us anything. Nothing! Truly, think about it for a moment. Have the thoughts of the ego ever brought everlasting peace, joy, and happiness? Is this not what we truly desire?
Jesus says, "What loss can be for you in choosing not to value nothingness? This world holds nothing that you really want, but what you choose instead you want indeed! Let it be given you today. It waits but for your choosing it, to take the place of all the things you seek but do not want."
W-129
We have to become so honest with ourselves and ask in each moment, "What do I truly desire?" To uphold a small self-identity, linear time, a belief in death, guilt, and pain? Will I continue to value this direction of thinking, or do I feel worthy of accepting truth, innocence, and God's Love as my reality, now?
Would you be this, if Christ appeared to you in all His glory, asking you but this:
Choose once again if you would take your place among the saviors of the world, or would remain in hell, and hold your brothers there.


For He has come, and He is asking this.
How do you make the choice? How easily is this explained! You always choose between your weakness and the strength of Christ in you. And what you choose is what you think is real. Simply by never using weakness to direct your actions, you have given it no power. And the light of Christ in you is given charge of everything you do. For you have brought your weakness unto Him, and He has given you His strength instead.
T-31.VIII
The way to peace is so simple it's bound to be overlooked by the suffering self. However, all we need do is make the decision to actually practice what Jesus is teaching; it is not ambiguous unless we wish it be so. Step back and let Him lead the way in each moment, with each thought and action, and happiness and peace of mind are assured.
Happy Easter everyone! May our shared prayer be, "Let thine eye be single" and let us watch as the light shines ever so brightly in our mind!
Love,
Melanie Doyle
Movie Pick of the Month
Emotion/Theme: Faith, awakening, guilt, wake-up call, purpose, death, mighty companions, defenselessness, miracles, real sight
Clavius, a Roman tribune present at Jesus' death, is tasked with finding Jesus' missing body after the resurrection. Although the authority figures of the church and the Roman Guard have given him the task to hide the truth, the search turns out to be Clavius' pathway to God.
Knowing nothing of Jesus or the Spirit, Clavius is searching for a body, and those he interviews tell him clearly that he is looking in the wrong place. Intending to arrest the apostles, Clavius first encounters them sitting with Jesus in the flesh, who welcomes him immediately as a brother. Unable to reconcile what he is seeing and feeling in his heart, he is irrevocably drawn to follow the apostles. And it turns out that his part is essential in God's plan.
The truth cannot be obscured, for it shines for all to see. No matter how hard it tries to blot out the awareness of the Christ, the ego—with all its defenses—simply has no power over the light. Christ is eternal life, and knowing this to be true means that the death of the body is truly meaningless.
The New Movie Watcher's Guide to Enlightenment
Use all things for the resurrection of your mind—including movies!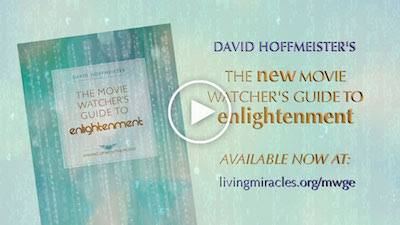 Jesus Speaks
I am among the ministers of God, and I am grateful that I have the means by which to recognize that I am free.
The world recedes as we light up our minds, and realize these holy words are true. They are the message sent to us today from our Creator. Now we demonstrate how they have changed our minds about ourselves, and what our function is. For as we prove that we accept no will we do not share, our many gifts from our Creator will spring to our sight and leap into our hands, and we will recognize what we received.
ACIM, W-154
April 14–16, 2017
–
Midway, UT: Easter ACIM Conference
April 16–19, 2017 –
Living Miracles Monastery, UT: Going Deeper with ACIM Retreat
May 1–30, 2017
–
Living Miracles Monastery, UT: Tabula Rasa Mystery School
June 11, 2017
–
Louisville, KY: Afternoon Gathering
June 18, 2017 –
Denver, CO:

Sunday

Service and Unwind Your Mind Workshop
July 14–16, 2017
–
Living Miracles Monastery, UT: Celebrating Inner Peace
Find all the details for
David Hoffmeister's events
and join David for spontaneous gatherings on Facebook! "Like"
his page
and you will receive instant notifications.
Europe
April 1, 2017
–
Barcelona, Spain: Gathering with Kirsten Buxton
April 6–7, 2017
–
Limburg, Netherlands: Gatherings with Kirsten Buxton
April 8–9, 2017
–
Aachen, Germany: Weekend Gatherings with Kirsten Buxton
June 21–25, 2017
–
Rocquigny, France: Retreat with Jenny and Greg Donner
July 7–9, 2017
–
Zug, Switzerland: Retreat with Jenny and Greg Donner
Living Miracles Teachers Events
Free Online Events
Saturdays,
10 a.m. (PT)
–
Miracle Movies with Geoff Wildbur
A Devotional Time
Fill out our
online application
if you are inspired to come for a devotional stay at one of our centers.